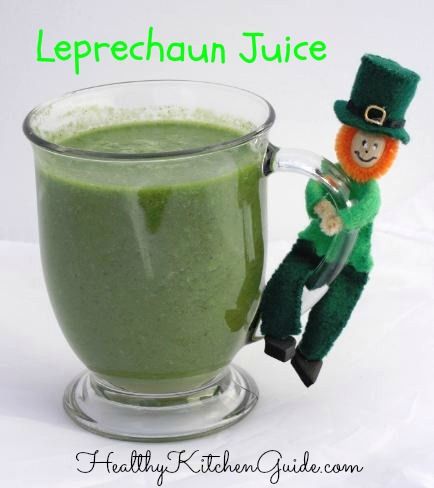 Looking for a healthy St. Patrick's Day recipe to serve your kids on March 17th?   Give this Leprechaun Juice recipe a try!  It's a fun accompaniment to breakfast, but it's also a great alternative to green punch or Kool-aid for St. Patrick's Day dinner.  With just the right balance of sweet vs. tart, Leprechaun Juice was a hit with my kids.
Leprechaun Juice is really just a green smoothie in disguise.   It's amazing what you can get get your kids to eat when you give it a silly name!  Most of my kids love green smoothies now, but when we started drinking them, I had to get a little creative.  You may find that a fun name or presentation might be just the ticket to get your kids to try healthy foods.
Leprechaun Juice Recipe
Ingredients:
2 cups pineapple juice
2 1/2 oz raw baby spinach (half of the standard 5 oz plastic tub)
1 banana
1 cup green grapes
2 kiwi fruit, peeled
Put all ingredients in your blender and process until smooth.  Serve immediately
Makes approx. 4 1/2 cups
Per 1 cup serving:
123 calories
0.3 grams fat
2.4 grams fiber
If you don't have a Vitamix or Blendtec blender, you may want to blend the juice and spinach first before adding the other ingredients.  This helps to ensure a smoother texture. Before I got my Vitamix, I made green smoothies for years with a cheap $30 blender using this technique.
Health Benefits:
Leprechaun Juice has a healthy dose of Vitamin A – important for healthy eyes, Vitamin K for healthy bones, Vitamin C – for a healthy immune system, and Potassium – which helps with fluid and electrolyte balance.  It also has a good bit of fiber – which you won't find in regular juice.  I know a lot of parents give their kids vitamins as sort of an insurance policy, but a green smoothie each morning is a great alternative.  Your body is able to more easily use vitamins and minerals from food in comparison to a synthetic form like a vitamin pill.
I hope you will give this fun green smoothie for kids a try this St. Patrick's Day.  Who knows – you may be the next green smoothie convert!  If you and your kids try this Leprechaun Juice recipe, be sure to leave me a comment and let me know how you like it.  So tell me… Are you serving anything special for your kids this St. Patrick's Day?
This Leprechaun Juice recipe is participating in these great link parties – Healthy2Day, Works for Me Wednesday, and The Mommy Club.