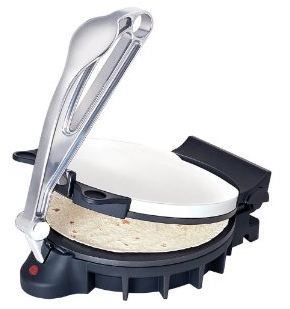 For awhile now, an electric tortilla press has been at the top of my wish list.  About a year ago, I purchased one of eBay.  Big mistake!  It looked like it had mylar coating the plates.  I paid $70 for the thing and was scared to use it because I didn't know what sort of nastiness would seep from that coating into my tortillas.  So I got rid of that and went back to hand-rolling my tortillas.  It is a fairly time-consuming process though and I can never make pretty round tortillas.  You know how kids like to find shapes in the clouds?  Well mine like to find shapes in my funky looking tortillas!
Fast forward to about a month ago.  I was down at Jungle Jims – an amazing supermarket in Cincinnati that can almost be classified as a tourist attraction.  Lo and behold in their kitchen appliances section, they had a CucinaPro 1443 Flatbread and Tortilla Maker.  I snapped that baby up.  No more square or funky shaped tortillas for us!
The Cucina Pro Tortilla Press is so easy to use.  You let it heat up for about 8 minutes, or until the light goes out.  Then you are ready to churn out tortillas left and right.
We found it worked best to take balls of dough and pat them into rounds.  The tortillas get thinner that way, as opposed to pressing the balls themselves.  Press for a few seconds then release the handle.  Then you can allow the tortilla to continue cooking for about 30 seconds.  Because both plates are heated there is no flipping involved and the tortillas cook up in less than a minute each.
What I love about my new CucinaPro 1443 Flatbread and Tortilla Maker:
It cut my tortilla making time in half.
My tortillas are actually round like they are supposed to be.
Clean-up is a snap.
What's not so great:
I don't like any of my kitchen appliances to have non-stick coating.  I have seen mixed reports about teflon's safety and the chemicals used to create it.  (For more on that, you can check out this Washington post article.)  Plus I don't like the fact that over time, the non-stick coating can flake off and get in your food.   That can't be good for you.  However, there are no tortilla presses on the market that don't have non-stick coating, unless you count my scary mylar one I got off eBay.
When you allow the tortillas to finish cooking on the press, you have to watch carefully to make sure they don't get crispy.  Otherwise it is easy to make tortilla crackers!
I don't like the perfect finish of the tortillas cooked on the CucinaPro.  I want the authentic brown spots.  So I press them using the CucinaPro and then finish cooking them in a cast iron skillet.  The process is still much faster than hand-rolling them.
Was the CucinaPro 1443 Flatbread and Tortilla Maker worth the money?
The CucinaPro electric press runs about $76 on Amazon.  If you make handmade tortillas infrequently, it's probably not a worthwhile purchase.  However, I make handmade tortillas a lot.  The kids love taking wraps in their lunches.  In addition, I usually serve 1 to 2 meals during the week that call for tortillas. So I use the tortilla press at least 2 times a week, sometimes more.  For me, the CucinaPro 1443 Flatbread and Tortilla Maker was definitely worth the money for the convenience and time it saves in the kitchen.  I soak my whole wheat tortilla dough in the morning and then it is quick and easy to make the tortillas right before dinner.  Nothing quite beats tortillas warm off the skillet.  My kids like to grab them and eat them plain.
I am going to try making lefse on the CucinaPro this Christmas.  I will have to let you know how it turns out!  Anyone else out there know what Lefse is?  If I want to irritate my husband I call lefse a potato tortilla.  My husband's family takes their lefse very seriously.  They have an ongoing argument over whether or not it is right to sprinkle sugar on your buttered lefse. But anyway….
I highly recommend the CucinaPro 1443 Flatbread and Tortilla Maker if you prefer to make all of your tortillas from scratch.  (Watch for my soaked whole wheat tortilla recipe to be posted soon.) Having an electric tortilla press has definitely made my life a little easier.  And with a family of 6 to prepare food for each day, this busy cook can use all the help she can get in the kitchen!  So tell me…  Do you make your own tortillas?
Disclosure:  I was not compensated in any way for this CucinaPro 1443 Flatbread and Tortilla Maker post. I just wanted to share my experiences with others who might be interested in the product.  This post contains Amazon affilliate links.  The small amount generated through sales from these links helps to support the site.